Happy Monday and WELCOME to my new readers! How was everyone's weekend?
This is the FIFTH round of Music Mondays and I hope you're all having as much fun as I am! I personally listen to every playlist that's added and everyone is picking out some great songs... love it!
This week I thought it would be fun to pick out our favorite
Honestly, I think it might be nice to be a one hit wonder... make some big bucks, mark my name in history, and still be able to live life like a normal person without paparazzi up in my grill all the time. Sounds like a good deal to me!
I narrowed mine down to five this week, even though I could have gone on and on... enjoy!
"What's Up" by Four Non-Blondes
Me and this song go wayyy back! Me and my old bff would belt this out every time it came on. I still think of her every time I hear it!
"How Bizarre" by OMC
This song is just the best. I remember my dad singing to this song in the car trying to mimic the way they say "Bizzah" ...haha good times.
"Mouth" by Merril Bainbridge
This song reminds me of my sisters and I... I'm not sure what our fascination with it is, but I have to share it every time I'm reminded of its existence.
"Safety Dance" by Men Without Hats
Y-E-S. It's not possible to listen without wanting to bust a move!
"Come on Eileen" by Dexys Midnight Runners
Such a classic and one of my all time favs... I couldn't believe I found them on the one hit wonder list!
If you'd like to participate be sure to grab this button, display it on your post, then link up and listen to everyone's playlists!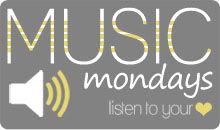 I thought it would be interesting to hear 5 picks from your favorite genre! Whether you love rock, country, hip hop or techno, show us what your taste in music is all about! I would also love to hear any suggestions for future topics; please leave yours in the comments! :)
And please note the theme is a guideline only and is not necessary to link up. Feel free to dance to the beat of your own drum!
After you start listening, be sure to go check out these TWO amazing giveaways:
Hope you all have a fabulous start to your week!