Happy Monday! Are you guys ready for some OLDIES?!
One of my favorite things to do is put on some old tunes preferably from the 50's and 60's; they always seem to get me in a good mood! Even when N'Sync and Backstreet Boys were taking over my generation, I was buying The Beach Boys and Righteous Brothers CD's. I think I've always liked to go back and appreciate where music has evolved from. To me, good music is timeless!
Want to participate? Put together your playlist (Grooveshark works best), grab this code, stick it in your post somewhere, and link up below! Then go check out what everyone else is jamming to while you tend to your Monday duties :)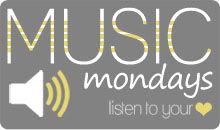 So, I have a little announcement to make...
This will be the last Music Monday series.
I know, I'm sad too.
As an artist and blogger I need to keep inspiration alive by creating and working on new things. Staying tied to one series every Monday is starting to feel less and less exciting, and I'm trying to avoid "obligation" posts where I need to post something on a specific day. I believe making this change, among others, will make me a better blogger in the long run.
I've so enjoyed hearing everyone's music choices while getting to know you a bit more. I'll probably always incorporate music somehow into my blog, I just won't be featuring it as a link up anymore. Thank you for everyone's participation- I hope you had as much fun as I did!