Good morning Music Monday lovers!
As much as I am a lover of music, I'm a lover of movies. One of my favorite things to do as a child and now is watch a good film. When this theme was introduced, only one soundtrack came to mind, and the more I tried to consider others, I knew in my heart this was the one I was going to do...
Maybe it's because I have history with this movie watching with my Mom and sisters, maybe it's because we used to listen to this soundtrack during long drives to church on Sundays, or maybe it's because George Clooney's sexy face is permanently etched in my brain... whatever the reason, I have a connection to this soundtrack. I know the songs word for word and every time I listen it brings back good memories. Call me sappy or cheesy for being a fan of this romantic comedy- I don't care! Sometimes you just have to bask in a soundtrack's cheesy goodness :)
So excited to see what you guys came up with (looking forward to hearing some Grease perhaps?)! To participate please copy and paste the following code in your post, link up below, then listen to the other playlists and make some friends!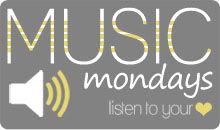 Next week will be a St. Patrick's Day theme!
(even though we will be a couple days late- oops!)
It's kind of going to be like a musical scavenger hunt... find songs with lyrics that include the words "Green", "Luck", or "Irish". You can even showcase songs by Irish artists, pick a song by a dude named Patrick, etc. Basically, find inspiration from this month's festivities and show it off in your playlist!
Now go ahead and turn up your volume, get in your groove, and have a fabulous start to your week! ;)