If it wasn't for this dreadful flu, I would have enjoyed the weekend with some fun, drunken, Irish-inspired St. Patrick's Day festivities. Instead, I was permanently laid up in bed feeling weak, tired, and absolutely miserable :( So much for TGIF.
It was a good thing I was feeling slightly better on Sunday so I could put this fun little playlist together... i
nspired by the words green, gold, luck, rainbow and Irish, I found a fun combination of tunes to start off your week:
Want to participate? Put together your playlist (Grooveshark works best), grab this code, stick it in your post somewhere, and link up below! Then go check out what everyone else is jamming to while you tend to your Monday duties :)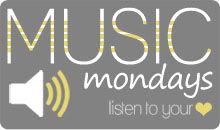 Next week will be all about
THE OLDIES!
Do you love Elvis? Frank Sinatra? Or maybe a little Doo-Wop suits your fancy?
I don't know about you but I love listening to the songs my parents and grandparents grew up with. I'm excited to see what oldies songs you connect with!
Have a lovely Monday :)