You guys... I'm pretty sure I deserve the "Worst Linky Co-Host of the Year" award.
This month has been a little nuts-o. I don't usually have crazy eventful weekends, but with birthdays, anniversaries, weddings, design jobs, my day job, blogging, and a beautiful new opportunity that has found its way into my evenings... I'm a little overwhelmed here.
Erin Condren planners wouldn't save me if I tried.
So, even though this was supposed to get posted about, ohhhh...
twenty hours ago
, as the saying goes, "better late than never!"

OK, enough groveling and on with this month's five questions!!


What would you attempt to do if you
knew you could not fail?
Pretty much everything I've been waiting for:
Quit my day job.
Jump in head first running my own design biz.
Move somewhere new, buy a house, start a family.
That's the serious answer.
But, I would also skydive, that is if I knew for sure I wouldn't die or end up all crooked and stuff.
If you had only six months left to live,
what would you do with the time?
First, I would hire a maid so I wouldn't waste one more second cleaning.
I would spend as much time with my family, friends, and dogs as possible.
I'd find every reason to go spend money-
eat fancy foods I've never tried,
visit places I've never been,
and take lots, and lots of pictures.
I would want to learn the guitar and write a song to leave behind.
I would write a book of memoirs to continue my story.
I would plan a big party for my funeral.
And last but not least,
I would make a special vlog tribute to all of my blog friends and wish you a beautiful life :)
If a front page news article was written on you,
what would the headline be?
ok not this one...
In a perfect world, I'd like it to be something really prestigious, like,
"SLC blogger meets the President"
But, let's be real...
I'd have to do something really ridiculous for a front page news article to be written about me. I predict if the writer was clever enough, it would be something like,
"KV GOES VIRAL: The Confession Heard Around the World"
What is your biggest pet peeve?
I have several...
interrupters, slow drivers, ignorance, and...
screaming children :/
(sorry, Moms!)
What is your favorite chick flick movie?
Hands down...
When Harry Met Sally.
Such a classic love story, and always makes me cry.
Psst... you want to read this:

To shake things up, we are introducing something new next month...
If you submit a question via this form,
you have a chance to co-host with us!
Does this mean I'm getting the boot? ...guys?
Kind of like how a giveaway works, one question will be chosen from the bunch and the person who's question gets picked will join the Me Myself & I co-hosters- yeah buddy!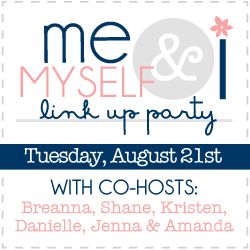 And if you don't have your post together yet- no worries- you have all week.
Besides, if your co-host can post late, then so can you, right?


Oh, and as much as I love to break 'em, there's only a few rules to abide by...
-Follow each of your hosts:
-Grab the button and place it in your post
-Put the button in your side bar to help spread the word (optional)
-Click around on a few other bloggers and get to know some new friends!

One other rule... have fun!